Dunn Loring - Merrifield Metro Stop - Orange Line - 2700 Gallows Rd., Vienna, VA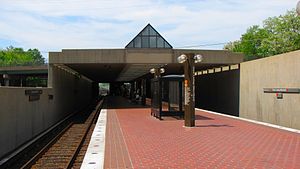 Dunn Loring
, Virginia, the earliest platted subdivision in Fairfax County and possibly the Commonwealth of Virginia, was founded in 1886. General William McKee Dunn and his wife Elizabeth Lanier Dunn purchased about 600 acres (2.4 km2) located on the Washington, Ohio and Western Railroad, now the Washington and Old Dominion Regional Trail, from L. B. Clarke and his wife on June 8, 1886. On September 22, 1886, the land was transferred to the Loring Land and Improvement Company, composed of General Dunn, then a retired Army Brigadier General and former Judge Advocate General; George B. Loring, a former Congressman and Commissioner of Agriculture; and George H. LeFetra, a Washington temperance hotel proprietor. The Town of Dunn Loring was advertised for residential sales in 1887. The Loring Land and Improvement Company built a railroad station and a post office, but shortly thereafter General Dunn died, and the development stagnated. During the Spanish-American War, the founding of Camp Russell A. Alger brought growth and prosperity to Dunn Loring, and among the troops trained at Camp Alger was the celebrated author-poet Carl Sandburg, after whom the present Sandburg Street was named. In 1912, Fairfax Shield McCandlish bought out the interests of the developers, consolidated parcels, and subdivided the land into its current platting. Following World War II, the area began to develop as part of Metropolitan Washington, D.C
Geography

Dunn Loring is located at 38°53′31″N 77°13′52″W (38.891982, -77.231150).

According to the United States Census Bureau, the CDP has a total area of 2.0 square miles (5.3 km²), all of it land.

Demographics

As of the census of 2000, there were 7,861 people, 2,668 households, and 2,038 families residing in the CDP. The population density was 3,855.9 people per square mile (1,487.8/km²). There were 2,711 housing units at an average density of 1,329.8/sq mi (513.1/km²).

There were 2,668 households out of which 35.6% had children under the age of 18 living with them, 66.8% were married couples living together, 6.0% had a female householder with no husband present, and 23.6% were non-families. 14.9% of all households were made up of individuals and 4.0% had someone living alone who was 65 years of age or older. The average household size was 2.90 and the average family size was 3.18.

In the CDP the population was spread out with 24.0% under the age of 18, 6.2% from 18 to 24, 34.1% from 25 to 44, 24.8% from 45 to 64, and 10.8% who were 65 years of age or older. The median age was 37 years. For every 100 females there were 102.9 males. For every 100 females age 18 and over, there were 102.0 males.

Like other surrounding areas in Fairfax County, Dunn Loring is an affluent neighborhood with the median income for a household in the CDP at $93,896, and the median income for a family at $96,464. Males had a median income of $67,019 versus $45,341 for females. The per capita income for the CDP was $37,018. About 0.4% of families and 3.1% of the population were below the poverty line, including 0.7% of those under age 18 and 1.4% of those age 65 or over.

Transportation

Dunn Loring is roughly equidistant from Washington Dulles International Airport, the largest international airport in the Greater Washington Metropolitan Area, and Ronald Reagan Washington National Airport. It is also served by the Dunn Loring station on the Washington Metro, on the Orange Line.